How to Take Up An Offering in This Day of Digital Giving
Mark Brooks
The times have changed and we better know how to take up an offering in this day of digital giving.  Online giving is growing by leaps and bounds.  Online giving to churches still has reached the tipping point of being the dominant way people give.  I do have clients that have surpassed the 50% mark in terms of onsite giving versus online.  Moving forward this will be the norm not the exception.
For many online giving begs the question of how you can make the offering worshipful if people give online?  I want to suggest two practical ways.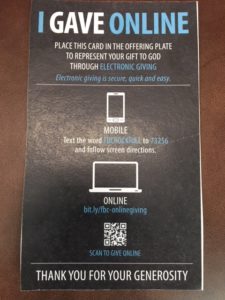 First, the picture above is from a client of mine.  This card is in all their chair racks along with offering envelopes.  It allows someone to actually put something in the plate when it is passed.  I often hear objections to online giving that basically state, "How can I show my kids the value of giving IF I am not putting something in the plate during worship?"  A card similar to the one at the left answers this objection.
Additionally, cards like this are nonthreatening reminders about the value of giving online.  Many that I have seen also contain directions on how to sign up for automated giving.  One key to sustaining giving and being fully funded is through automated giving.  Cards like this help communicate the various giving platforms at your church.  I have found that the easier you make it for people to give the more likely they will give.
Here is an alternative, use QR codes. I attended a church recently that had a QR code posted on the backs of chairs. This made it easy for members to scan the code and be taken immediately to the church's giving portal. While it does not provide "proof" of a gift it is a quick and easy way to point people to your giving page. And it also serves as a visible reminder to give.
Second, periodically use the 60 to 90 seconds before you actually take up the offering to set the stage for the offering. I call this the elevator pitch. You are making a case for why people should give. I write weekly offering talks for my clients. Several weeks ago I wrote an offering talk entitled, "How Many Checks Do We Have Here?" Here is a segment of that talk…
How we do commerce in America has changed and continues to change. We here at YOUR CHURCH NAME have had to change as well. We now offer multiple options by which you can make a contribution. Our goal is for giving to be easy. As we get ready to take up the offering you can, of course, put money in the plate or even a check. However, did you know you can also give online? In fact, there are many ways in which you can give. We want you to use what fits your lifestyle and what is easiest for you.
Make giving fun and easy! A few years ago right after The Great Recession a top 100 church in terms of size in America engaged me to help them reverse a 3% decline in giving. As I met with a group of staff members I began by saying, "We are going to make giving fun and easy."
The fun part is a bit harder to understand. Yet I find that I have a sense of great joy in giving to my church as I know they are doing amazing things. So, by showing HOW gifts to your church make a difference for the Kingdom you will gain more dollars. And…
By pointing out the various ways in which people can give you make it easier for them to give thus increasing the odds of their giving.
Online giving is here to stay so let's figure out how to make it work for us! Check our my sponsor, OnlineGiving.org at https://www.onlinegiving.org/
Online giving is here to stay. Our task is to make it meaningful and worshipful.
Mark Brooks – The Stewardship Coach