Are You Ahead or Behind?
Mark Brooks
Halfway into the year, my question for you is, are you ahead or behind budget? Is the reason you are behind a simple giving gap or are you suffering from budget inflation? Let's find out.
Giving Gap versus Budget Inflation – Your Giving Gap is the percentage behind budget you currently are. Budget Inflation is the percentage beyond realistic expectations you are currently attempting to run your church by. Let's start by looking at closing out, or narrowing, your Giving Gaps. Here are my rules of thumb I work with:
5% to 10% behind now can be made up with good planning. This depends upon a lot of things such as your past trends and if your attendance/engagement has held steady. With consistent work now and a good end-of-year strategy, you can close that gap.
Greater than 10% makes it doubtful you will close that gap. This doesn't mean you give up, but it does mean you might face some difficult decisions.
Budget Inflation – Again, this is the percentage beyond realistic expectations. Let's take my standard of 2% to 3%. If your past giving numbers don't support that kind of increase, any increase above last year's giving is your budget inflation. Budget inflation is the number one reason why churches get so far behind. It's also the number one reason for burning out your donors. COVID forced us to be practical and 2021, while better than 2020, is still a work in progress.
OK, Coach, but now what do I do? I always say, "Don't panic." I can't help you pave the Grand Canyon, but I can help patch up a few giving potholes on your road to winning the world to Jesus. In the meantime, here are some practical steps to take now as you prepare you're come from behind strategy.
Re-evaluate and recalibrate – If you are currently more than 10% behind, you need to do some serious evaluation. What was your last half of 2020 giving record? Establishing trends amid COVID-19 is suspect, yet a look back is often your best indicator of what the last half of 2021 will look like for you. If you have not seen your giving grow to match your budgeted need, it's time to stop digging a bigger hole and recalibrate based upon better information. What's wrong with saying, "We were too optimistic, and we now have a clearer picture of our giving and finances and have adjusted our budget accordingly?" I can tell you one thing, your top-tier donors, the ones really pulling you forward, will say, Hallelujah!
Then I would ask you, What is your plan? Because here is the thing, whatever you have been doing hasn't worked. How do I know that? You are still reading this. Good for you. But we need a plan to move you out of the hole you're in and moving forward to financial security. I'm your deacon, tending the stewardship table, so you can do the work of ministry. You need a plan!
I have a plan for you! The 2021 edition of "Recovering the Lost Offering(s) of COVID-19" at: https://acts17generosity.com/shop/recovering-the-lost-offering-of-covid-19/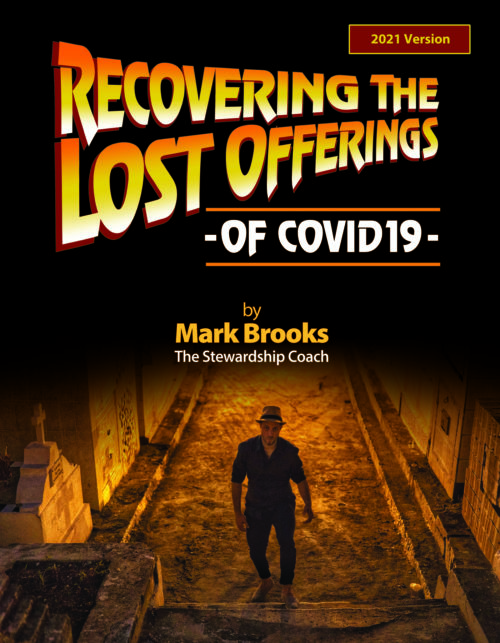 Here is what you'll get:
The 3 Key Steps for setting up an effective come from behind giving strategy!
Tools on Crafting the Vision of the "Ask."
A Vision Worksheet
A detailed step by step plan of action
Sample direct mail letter
Sample emails
Sample offering talks
All the strategies, plans, AND tools to help you recover that lost offering(s)of COVID19!  Buy this downloadable playbook NOW and let's recover your lost offerings! Let's get started closing your giving gap NOW! https://acts17generosity.com/shop/recovering-the-lost-offering-of-covid-19/
Mark Brooks – The Stewardship Coach
Find out how to get ALL my playbooks PLUS my weekly newsletter, The Stewardship Coach at https://acts17generosity.com/?elementor_library=silver-basic-button-section